A Community of Practice (CoP) led by Sustainable Finance Lab, co-created innovative financial solutions for circular businesses that aim to do business in a different, circular, way and struggle to attract capital.
The Community of Practice to 'innovate finance for the circular service economy' brought together experts from ABN Amro, Allen & Overy, ASN Bank, Avans Hogeschool, Circle Economy, EY, 4CEE, InvestNL, Rabobank, Startgreen Capital, Stichting DOEN, Sustainable Finance Lab, UncInc, Windesheim Hogeschool, and was supported by Finance and the Common Good.
The CoP looked at the role of the CISE platform, a tool that distributes payments and information to stakeholders that collaborate to co-provide a circular service, and how it could support the financing of circular businesses. CISE technology opens up tons of opportunities for circular finance:
It improves the financeability of circular services by creating more certainty from the data that is generated.
But new financing forms that extend the circular incentive to the finance provider become possible as well.
But there is more: finance providers are offered new ways to diversify risks and directly invest in circular assets through innovation as radical as creating a whole new asset class for circular assets.
The key learnings from the CoP are presented in this white paper:
But we are not there yet. To come to the radical financial innovation that the circular economy requires we need to join forces and start experimenting. Want to join us? Contact: e.achterberg@uu.nl.
---
Collective circular services, a new business logic
In a circular economy, revenue models are no longer based on selling as many products as possible but are instead tied to durability and optimal use of products. The user pays for the use of a product rather than for owning it. An incentive arises for de-materialization: material becomes inferior to function.
Whether a product is suitable for a long life of intensive use, however, largely depends on the durability and replaceability of all its parts and thus on the entire supply chain. In the CISE platform, payments are automated and distributed across all chain partners according to their performance. Responsibility for resource use and durability is placed on those that have the most influence on it.
Take Homie, for example, that delivers a circular laundry service. Homie charges the user per washing cycle and takes responsibility for the washing machine. Ideally, however, the company that provides the motor takes responsibility for its functioning and take back and is awarded accordingly. The longer it functions, the longer he earns from it.
"We believe that with a pay-per-use business model manufacturers are stimulated to design devices for long-term use. At the same, users can be incentivized to use the devices as economically as possible"

– Nancy Bocken, Co-founder, Homie
---
The circular service distribution app
The CISE platform changes the relationship between service providers, consumers, and financiers fundamentally. Users subscribe to a circular service, for example to a laundry service, such as that provided by Homie. In the CISE app, a digital wallet is created in their user accounts. All stakeholders that co-provide or co-fund the service, are connected to the circular asset, the washing machine. When the user consumes a unit of laundry, its wallet is charged. The payment is immediately distributed to all stakeholders involved without a central party coordinating.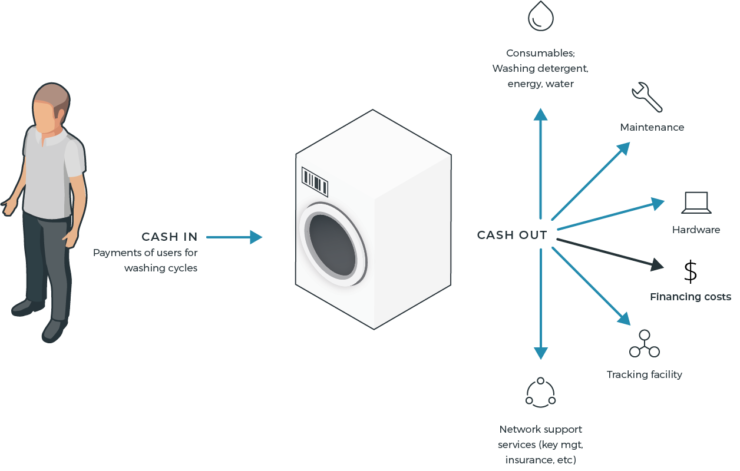 How can the CISE platform improve financing circular service models?
But could CISE improve the financing of circular service companies? Are new forms of financing possible? This Community of Practice identified three ways that CiSe contributes to better financing options for the circular economy:
Optimize existing financing models by using data. The cash flow data generated by the platform can be used to gain greater insight into usage patterns and asset performance, used for adequate cash flow projections. This can provide more certainty for financing a circular service model.
CiSe also makes new forms of financing possible, by including the finance provider as part of the direct payment distribution. The difference is that the circular asset is financed directly, not the company. Payments are per unit of use and therefore dynamic over time and cash flows are generated over a long time.
But financial innovation can be even more radical: circular assets can be bundled in a basket to a portfolio of x-million assets, from headphones to washing machines. The return is financed from the cash flows generated by the circular assets. CiSe could act as an investment vehicle, enabling everyone to participate in this fast-growing sector. This enables a citizen-based financial system in which users can become lenders and investors in circular assets themselves.
"We are thinking many years ahead with this. If you had asked a taxi driver what the (uber) app should look like, they could not imagine it then. For example, you cannot ask the market for the ultimate goal of CiSe, because it does not fit into an existing model. It doesn't do something that's already there. It's going to do something fundamentally different."

– Cees van Ginneken, lawyer, Allen & Overy
"I am excited by the innovative proposal that is presented in this paper. Especially about the design of the service ecosystem where everyone has a stake in successful functioning of an asset. This creates an enormous diversification opportunity: risks that are now treated per customer can be partly mitigated by the diversification."

– Taco de Boer, New Business Manager Vendor Lease at ABN AMRO
---
What's next?
There is still a giant step to be taken to get there. Together with supervisors and regulators the necessary space needs to be created to experiment with new financial models and to change the way we value circular service companies and assess their riskiness. Encouraging circular service providers to start using the CISE platform is the first step. With the data that is generated, intelligence can be developed to accurately predict cash flow patterns and create the necessary certainty for finance providers to take the plunge. Subsequently, new financial models can be structured and piloted. Eventually creating the financial models necessary for a circular future. Will you experiment with us?
"Down the rabbit hole: we just have to dive in and start by taking small steps."

– Rob Guikers, Innovation consultant at Rabobank
To learn more on how finance could be innovated for the circular future, download the whitepaper.
For more information contact: Elisa Achterberg, e.achterberg@uu.nl.