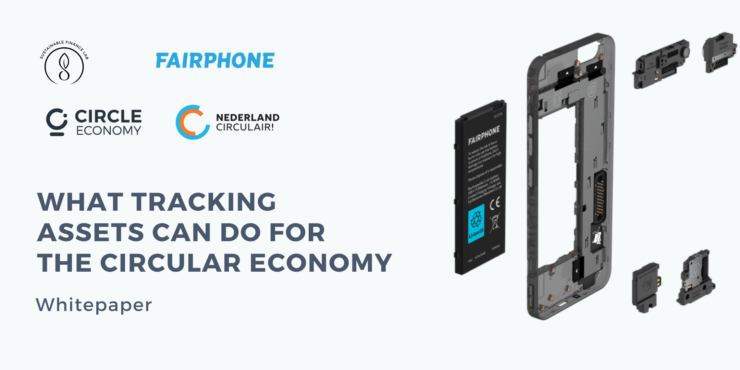 Asset tracking, which includes monitoring the identity, location and condition of individual components or products, can effectively extend the economic lifetime of products, thereby bringing a host of benefits to companies. This is according to new results launched today by the Community of Practice (CoP) – consisting of Rabobank, Allen & Overy, Schiphol Group, Avery Dennison on behalf of the NBA (The Royal Netherlands Institute of Chartered Accountants), Circularise, Everledger, Fairphone, Sustainable Finance Lab and Circle Economy.
Looking at the benefits of asset tracking for Product-as-a-Service entrepreneurs, the CoP sets out to tackle the complexity of asset tracking by uncovering the best technologies and mapping the financial and legal implications of the process. To ensure that the research outcomes reflected reality they teamed up with Fairphone, who aims to launch a Fairphone-as-a-Service to businesses using their recently launched, easy to repair modular Fairphone 3.
Tracking mobile phone assets: overcoming barriers
Asset tracking is far from a simple or clear-cut method to implement. It introduces a number of questions, namely; which technologies are most effective and can be implemented throughout the product value chain? And how do companies navigate strict data protection laws and regulations?
CoP's partnership with Fairphone allowed for an on-the-ground investigation of ways to overcome such complexities. In its launch of Fairphone-as-a-Service to businesses, the Dutch company plans to use tracking to keep their products, and therefore the materials in them, circulating for as long as possible, and at their highest possible value. Tracking technologies could support this by optimizing preventive and targeted maintenance and enabling efficient re-use of components.
By understanding the behaviour of individual components in the phones, and what affects their physical condition, Fairphone can improve circular decision-making. This revolves around the effective use of components, in regard to refurbishing, re-using or recycling and predictive maintenance. Within this project, the CoP focused on the phone battery, for which an app was built to read the most important battery-metrics: The charging temperature and the total charge. This allowed for software instructions to be written that model the condition of the battery, thereby ensuring it can be categorized and sorted without the need to open the device.
By tracking multiple components within the phone, invaluable data is gathered that can inform the future design of a product, further increasing the product lifespan, which is essential for Product-as-a-Business models.
For circular enterprises in need of an infrastructure that provides better grasp over their assets, tracking technologies generate insights that are indispensable for the transition to the circular economy. Circular business models can be improved and track records can be built, which ultimately can provide the comfort for financiers to, finally, take the plunge.
Download the full report here